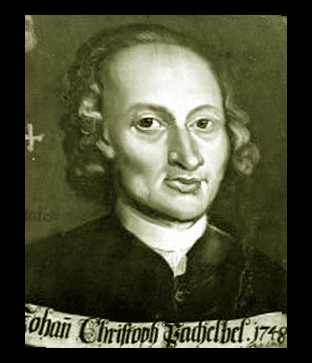 This site is dedicated to Johann Pachelbel and his famous piece the Canon (or Kanon). It is a baroque piece of music which has been interpreted by many people and has become the basis of many modern songs. Quite often, it is found in movie themes, songs and commercials. Some people actually believe it is the root of all modern music (more or less, with a pinch of humour, of course :). The melody of the Canon is easily recognizable, but the listener might not know the name of the composition or its composer. It is very popular for weddings, especially in the USA.
Johann Pachelbel lived from 1653-1706. In 1671, at the age of 18, he moved to Vienna (Austria) where he became a student. In 1692 he moved to Nuremburg where he lived until his death in 1706. The Canon was written around 1680 and it is Mr. Pachelbel's most famous piece. The original was written for three violins with a bass accompaniment and a gigue.
What does the word "Canon" mean then? Well, it is certainly not a "cannon" (the large gun), as is often suggested. A Canon (or Kanon) is a piece of music characterized by imitation and repetition. First one instrument or vocal introduces a part of the melody. Then, after a number of tones, a second instrument or vocal starts to repeat, or imitate, the first melody, playing the exact same tones, but with a time delay. More instruments or vocals may then be added, depending on the composer's wishes.
Canon's popularity boosted after appearing in the 1980's movie Ordinary People. It is even found as ring tones in wireless telephones.

Pachelbel's Canon performed by Voices of Music ensemble.
Pachelbel's Canon has a very special meaning for me personally. I listen to it when I'm happy and when I feel sad. It touches my soul and sends shivers down my spine. And it always does, even though I have listened to it thousands of times. From all the encouraging emails I receive as a result of this site, these feelings seem to be shared by many. .
Other work by Johann Pachelbel
Although Canon is Pachelbel's most famous work there are other worth mentioning, like for example Chaconne or Ciaccona in F minor or in C major.
Songs based on or inspired by the Canon
The progression chords of Pachelbel's Canon can be found in many modern songs.
"All together now" by The Farm
"Basket Case" by Green Day
"Beach Baby" by The First Class
"Cryin" by Aerosmith
"Domain" on the album "Lifeforms" by The Future Sounds of London
"Don't let it be love" by Bowling for Soup
"End Transmission" album by Snapcase, a band from Buffalo New York (2002)
"Graduation (Friends forever)" by Vitamin C (1999)
"Hook" by Blues Traveler
"I should be so lucky" by Kylie Minogue inspired by Canon
"I'll C U when U get there" by Coolio
"Just another day" performed by Jon Secada
"Ladies and gentlemen we are floating in space" by Spritiualized
"Let it be" by The Beatles
"Machine Head" by Bush
"Push" by Matchbox 20
"No woman, No cry" by Bob Marley
"On & On & On" by Catch 22 uses chords similar to those in Canon in D Major (1998)
"One Tin Soldier" by Coven
"Piano Love Songs" by pianist Bradley Joseph (2006)
"Rain and Tears" by Aphrodite's Child based on Canon in D mayor (1968)
Rick Wakeman from the band Yes performs Canon in D on their Wakeman 2000 DVD (2000)
"Right here waiting for you" performed by Richard Marx
"Rocket Surgery" by Amy Kuney
"Salve Regina" by All Angels
"Sk8ter boy" by Avril Lavigne
"Streets of London" by Roger Whittaker
"Torn" by Natalie Imbruglia
"Tunnel of Love" by Dire straits (1980)
"Valley of the Damned" by Dragonforce
"Welcome to the black parade" by My Chemical Romance
"We're not gonna take it" by Twisted Sister
"With or without you" by U2
Movie and tv-series themes based on or inspired by the Canon
"13 going on 30" directed by Gary Winick (2004)
"A princess diaries 2 - Royal engagement" (2004), Canon is played in a wedding scene
"Arthur's Perfect Christmas" (2000)
"Bob the butler" directed by Gary Sinyor (2005)
"Evangelion: Death and Rebirth" (1997)
"Fatal attraction" directed by Adrian Lyne (1987)
"Ichigo 100%" (animated manga)
"Kanon" (anime series) - Canon D is in episode 1 and 14
"My Sassy Girl" (2002) (Korean comedy)
"Ordinary People" directed by Robert Redford (1980)
"Runaway bride" directed by Garry Marshall (1999)
"Seul contre tous" by Caspar Noé (1998)
"Step Up" - Canon played in a scene
"Super Android 13" (Dragonball Z movie )
"The Classic" (Korean film)
"The Enigma of Kaspar Hauser" by Werner Herzog
"The Persistence of Memory" - an episode of Carl Sagan's Cosmos series
"The Sweetest Thing" directed by Roger Kumble (2002)
"The Wedding Planner" directed by Adam Shankman (2001)
"Vietnam" - Australian tv-series with Nicole Kidman (1988). See a clip from it here. Canon is played from 2:50 in the clip.
"Wedding Crashers" directed by David Dobkin (2005)
"Wedding Wars" (TV-series) written by Stepheb Mazur, directed by Jim Fall (2006)
Commercials with music based on or inspired by the Canon
Coca Cola TV-ad for World Cup 2006
GE Light bulbs commercial (1980s)
Korean commercial - Is it a commercial or just a music video? My korean is a bit poor :) Anyway, it is a cool hip hop version.
Pantene Thailand commercial about a deaf and mute girl learing to play the violin.
Game themes based on or inspired by the Canon
"Audition Online" in the Canon groove - online game
"Gran Turismo 4" contains Canon while driving
"Mother 3" for Gameboy Advance, Canon D remix
"Pokémon Silver/Gold/Chrystal" while in Goldenrod City
"Pump It Up Exceed 2" - rock version performed by Banya
"Super Smash Brothers" for Nintendo 64, Canon D remix
"Utopia" for Amiga and Super Nintendo
Linking here
Linking to this site is encouraged but you may never copy the content and post it on your own site or anywhere else.
Stefan Helander
This site is hosted by WebHotel24.se
Information about cookies on this site
This website use cookies. By continuing to visit the site you agree on the use of cookies on this website.
Google as a third-party provider uses cookies to serve ads on this site, known as DART cookie.
Using the DART cookie, Google can display ads depending on your visits to various sites on the Internet.
You can choose to not receive DART cookie by visiting the privacy policy for Google's ad network and content network